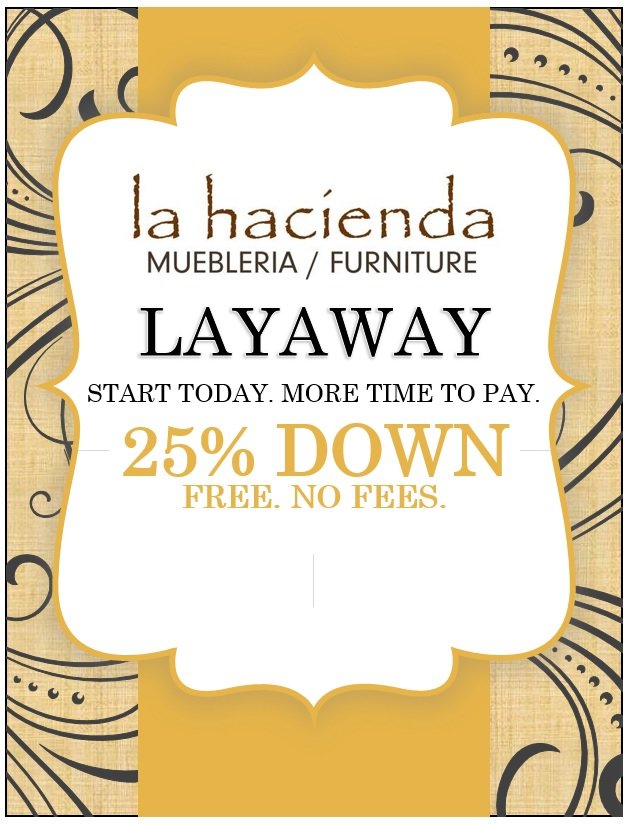 Layaway Policies
La Hacienda Furniture offers 3 or 6 month layaway. Purchases under $500 will be held for 3 months and over $500 will be held for 6 months. Purchase must be over $100 to put on layaway. We require 25% down to place your items on layaway. A payment is due once a month.
Our layaway policy is a price hold policy which allows you to lock in at today's prices. The price hold layaway program will give you up to six month to pay off the items.
There is no charge for this service. Once the layaway is paid down half way, we will order the items on your order, unless if your items were off of the floor. Once you pay off your layaway can schedule for either a quick delivery or immediate pick-up.
This is a great layaway program for everyone! All sales are completed in stores so please stop by our location!
* In the event of an unclaimed layaway, there will be no refunds, no store credits nor exchanges. No exceptions.

*
Layaway Policies
Layaways are considered unclaimed, if the balance remains unpaid past the due date on your layaway contract. The order will be cancelled immediately. No refunds or store credit will be issued.
There are absolutely NO refunds,
no store credits, no exchanges and no changes on layaways.
Apartados se consideran no reclamados, si el balance sigue siendo sin pagar después de la fecha de vencimiento de su contrato de apartado. El pedido será cancelado inmediatamente. No se emitirán reembolsos o crédito de la tienda.
Absolutamente no hay ningún reembolso,
no hay créditos de la tienda, no hay intercambios y no hay cambios en layaways.